This is a quickie lapghan that I crocheted using up odds & ends of scrap acrylic yarn using Lion Brand's free pattern, Circles to Squares.


I made the lapghan about half the size of the original afghan, & joined motifs as I went along. It was really fast to make, & I'm overall pleased with it! This will be donated to a local nursing home.
Jon's socks are also done. They are for him for Christmas, but he knows about them & here he is modeling them


Stay tuned for a yarn review.
Various things/notes:
From Attic 24:


hooky trim, as she calls it
This year's blogger's quilt festival is going on now – I had a ton of fun looking at all the quilts last year.

Ucreate posted an interesting make 2 challenge, I really love this idea!
I posted about a pattern giveaway yesterday
And just another reminder, cut & pasted from previous week's reminder…
I'm also looking for some guest posters for the month of December – pretty much any day is open, though preferably not Friday's (though I can always show off FOs another day of the week). Anyone who has read my blog for a while knows I focus mainly on crocheting & books, with the occasional family stuff, yard sale finds, shameless Wedgie cat photos, etc. I'd be open to yarn crafts (including spinning & dying), talking about going to a fiber festival, vintage craft stuff, almost anything craft related really. I'd be more then open to other ideas as well. You'd be welcome to include links to your goodies, I'd of course tweet, facebook, etc. your guest post. I'm currently averaging 500-1000 hits a day, with occasional highs of 2000 hits a day. I've been holding steady at those numbers for about 6 months now.
link up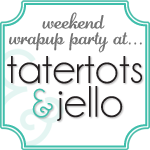 Creative Jewish Mom