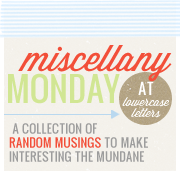 It's time for another Miscellany Monday!! It's been a while!
1. Life is good when the sun is shining
2. Life is good when you get a book to review in the mail or in your email.
3. Life is even better when said book involves fantasy/paranormal & knitting or crochet!
4. I used to work where we sold Life is Good tee shirts, man where is my Life is Good tee shirt?
5. Why is it called Micellany Monday & not Random Thursday? (seriously, I got nothing folks)
6. I love my crocs. I'd live in crocs if I could.
7. I was featured on Craft Fail recently, go check it out!
is it wrong that I'm so excited about a design gone bad?