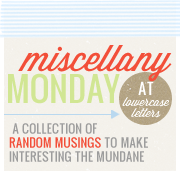 It's time for another Miscellany Monday!!
1. I wanted to be an astronaut when I "grew up". I was obsessed with all things space. Christa McAuliffe was a personal hero of mine. She graduated from Framingham State College, where I attended full time for an odd semester many years ago. I still vividly remember the Punky Brewster episode where they talked about the space shuttle disaster, and I still mourn every January when the "anniversary" comes up.
2. My high school class has never had a class reunion. With facebook, it's so easy to keep in touch with everyone, so who knows if we'll ever actually have one.
3. I think we should make Sept. 11th into a national holiday so that we will always remember & never forget that horrible day.